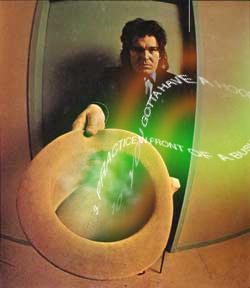 Sad news today: Captain Beefheart, aka Don Van Vliet, passed away today after 69 revolutions around the Sun. An experimental music pioneer, Beefheart left a glorious legacy of avant-garde recordings, ranging from the tame to the far-flung.
The first time I heard Beefheart was likely Trout Mask Replica, and my reaction was not initially favorable. However, I had purchased the CD, and thus forced myself to listen to it. As the days passed into months, my appreciation for it grew and grew, eventually leading me to check out his other material. One of my favorite recordings of his is Spotlight Kid/Clear Spot, a CD that combines the contents of two vinyl albums. Therein, Beefheart explores his Delta blues influences, wielding his gritty, dusky voice like a liquor bottle starving to get off the shelf and into the mouth of a drowning alcoholic. I have since lost my copy of this recording, but I am now convinced that I must make it a mission in the coming days to find it, and with it wear another musical groove into my brain.
Don Van Vliet, you will be missed my many, and misunderstood by more.
Read more: Spin | BBC | The Guardian | NPR | Rolling Stone