Roman joins the UrbanItes on guitar, at the Bob Marley Festival:
Urban Empress and the Urbanites open for Aswah Greggori and the Enforcers.
9pm $12 advance/$15 door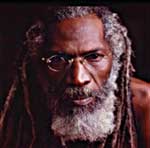 Off stage, Aswah is a man of few words – always humble, usually humorous, very subtle. His personal story is as inspiring as his lyrics and music. Born in Louisiana in 1946, Aswah came to Chicago after his Viet Nam experience to find work "somewhere other than the lumber mills" of Louisiana. In 1971, a serious industrial accident which severed his right arm also changed his life forever. After surviving not only the accident but the grueling arm re-attachment surgeries and therapy which followed, Aswah emerged with a new sense of purpose leading him into a full-time music career. Spiritually guided and unencumbered by traditional definitions of success ("Material possessions won't save you, only bring aggression, enslave you" he sings in "Save You From Yourself"), Aswah's message is man's healing from violence, drugs, hatred and jealousy the music is his medium.
Shank Hall
1434 N Farwell Ave
Milwaukee, WI 53202
(414) 276-7288
Map